Cappasity to Present its 3D Imaging Solution for Art During the Venice Biennale 2019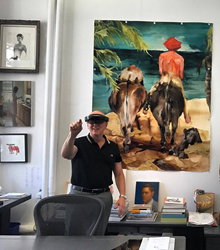 Cappasity is excited to announce that the Company is now an official sponsor and partner of In Dante Veritas, an interactive multimedia exhibition by artist Vasily Klyukin that will be open for viewing from May 8th to November 24th, 2019 at Arsenale Nord, Tesa 94 (30100 Venice) with the support of the Venice Mayor's Office.
By demonstrating the digitized artworks of the In Dante Veritas exhibition Cappasity will showcase its 3D imaging solution for art visualization. The solution can be used for both art exhibitions as well as museum, gallery, and auction house collections. All the content produced can be viewed on websites, or via mobile or AR/VR applications.